---
About KELI SWISS
KELI is an Indo-Swiss Socio-Cultural Organization in Switzerland. To nurture and promote the rich Indian values and goodwill on a global arena, a voyage began in the late 90's, when a group of passionate individuals teamed up and formed KELI. On 24th October 1998, Shri M.R. Venu IFS, Honorable Secretary, Permanent Mission of India (PMI Geneva) inaugurated KELI in Zurich.
KELI is a non-profitable, non-sectarian and non-political organization, officially registered in Switzerland.
KELI SILVER JUBILEE CELEBRATION & PONNONAM 2023
SCAN ME
🎤 16 Top Indian Artists Live on Stage, Including Vijay Yesudas, K.S. Harishankar, Sayanora Philip, Ramesh Pisharody, and More 🎶
🎨 A Colorful Showcase: 236 Artists of All Ages Bringing the Vibrant Spirit of India to Life
🍌🍽️ Delicious *Sadhya* : Enjoy a Traditional Onam *Sadhya* with 25 Tasty Dishes, Served Live by the Keli Kitchen Team
💡🎉 Spectacular Sights and Sounds: Be Amazed by a Giant 15m LED Screen, Lights, and Music That Will Leave You Spellbound
Don't Miss the Biggest Indian Cultural Celebration in Switzerland!
Grab Your Tickets Now for a Mesmerizing Experience!" 🎉🇮🇳🇨🇭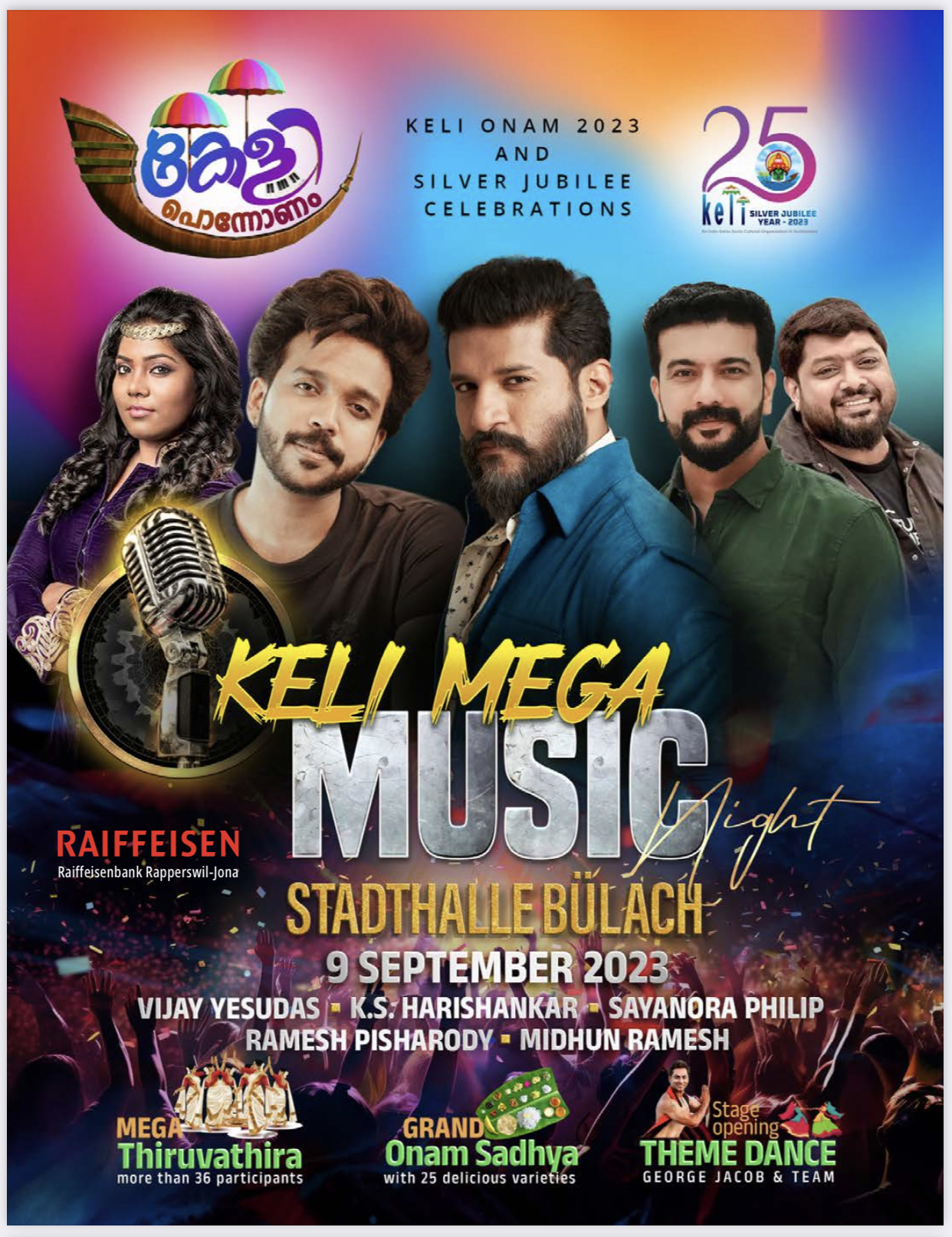 Keli Mega Music Night
Incredible Keli's 25th year celebration and Ponnonam 2023!
09.09.2023 ന് ബുലാഹിലുള്ള സൂറിച്ചിലെ ഏറ്റവും വലിയ ടൗൺഹാളിൽ വയ്ച് നടത്തുന്ന കേളി സിൽവർ ജൂബിലി ആഘോഷത്തെയും, പൊന്നോണത്തെയും വരവേൽക്കാൻ ഇനി 29 ദിവസം മാത്രം ബാക്കി. "എല്ലാവരും റെഡിയല്ലേ. നമുക്ക് അടിച്ചുപൊളിക്കണ്ടേ?"
08.09.2023 ന് 10 മണിയോടുകൂടി നമ്മുടെ ആഘോഷങ്ങൾക്കുള്ള തയ്യാറെടുപ്പുകൾ തുടങ്ങുന്നതാണ്. സാധിക്കുന്ന എല്ലാവരും 10 മണിക്ക് തന്നെ Bülach Stadthalle യിൽ എത്തിച്ചേരണമെന്ന് അഭ്യർത്ഥിക്കുന്നു. ഇനിയും ടിക്കറ്റ് റിസേർവ് ചെയ്തിട്ടില്ലാത്തവർ, നിങ്ങൾക്കുള്ള ടിക്കറ്റ് റിസേർവ് ചെയ്യാൻ എത്രയും പെട്ടന്ന് ഏതെങ്കിലും എക്സിക്യൂട്ടീവ് മെമ്പറുമായി ബന്ധപ്പെടാൻ അഭ്യർത്ഥിക്കുന്നു.
ഓൺലൈനിൽ ടിക്കറ്റ് റിസേർവ് ചെയ്യേണ്ടവർക്കുള്ള ലിങ്ക് ഇതോടൊപ്പം വയ്ക്കുന്നു
Sponsors & Advertisements
Upcoming Events & Activities at Keli Swiss